Creamy Carrot-Zucchini Soup
26
Carrot and zucchini make such good friends, don't they? They're always found together – in breads, muffins, fritters. And why not? They're both very yummy and nutritious!
This week, I found myself with some extra carrots and zucchini that I really needed to use before they went bad, so I decided a creamy soup was going to be their final resting place.
And it was such a good decision, I had to share the recipe with you! I know summer is kicking in, and a warm bowl of soup is probably the last thing on your mind, but it's worth it. Trust me.
It was so easy too; I just threw everything in a pot and cooked it until it was tender, then whizzed it away with my stick blender. I loooove my stick blender, especially for jobs like this, but of course, if you don't have one, you can just transfer it all into a regular blender and do it that way.
I also reserved some of the zucchini and onion, and sauteed them separately, then added them to the blended soup, just to give it some texture.
This soup was so tasty and nutritious! It's also very filling, but that didn't stop Mr. Nurture and I from going back for seconds…and maybe thirds.
I'm sharing this recipe at the Sunday Night Soup Night linky party, which is in its last week this week, before taking a break until next Fall. In it's place, Debbie is starting Summer Salad Sundays to celebrate and feature different salad recipes! If you want to join the party, follow the links to her site and check it out!
Enjoy!
| | | |
| --- | --- | --- |
| Creamy Carrot-Zucchini Soup | | |
Author:
A hearty, filling, creamy soup made with carrots, zucchini, and celery.
Ingredients
1 large zucchini, chopped
3 medium carrots, cut into 1-inch pieces
1 stalk celery, sliced
1 large tomato, diced
1 large onion, chopped
2 cloves garlic, minced
3 cups water
1/3 cup half-n-half
1/2 teaspoon salt
1/4 teaspoon pepper
1/2 teaspoon oregano
1 teaspoon basil
1 teaspoon cumin
1 tablespoon oil
Instructions
Reserve about 1 cup of zucchini and 1/2 cup of onion, and set aside.
To a large stock pot, add the rest of the zucchini and onion, carrots, celery, tomato, garlic, water, and spices, and bring to a boil.
Reduce heat, cover, and simmer for about 20 minutes, or until carrots are tender.
Either blend with a stick blender directly in the pot, or transfer to a blender, and process until smooth, then return to pot.
In the meantime, saute the reserved zucchini and onion in oil until zucchini is tender. Add to the soup mixture and stir.
Stir in half-n-half, and cook until heated through, about 5 minutes.
This post was proudly featured on: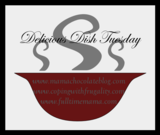 [tssig id="2"]
[tssig]
Sarah UmmYousef is a former school teacher turned stay-at-home wife and mama with a passion for all things simple, natural, and homemade. She loves the natural world, and believes the solutions to many of the world's ailments lie in nature. Her blog, 
Nature's Nurture
, began as a way to document her family's journey to a greener home, but has since become a thriving community and resource for those wishing to take small steps towards a more eco-friendly, natural and sustainable lifestyle. Follow her on
Facebook
,
Twitter
,
Google+
, and
Pinterest
.
Latest posts by Sarah UmmYousef (see all)