Guess what? I made almond butter yesterday! And it's so easy, so tasty, and so cheap, I just had to share it with you! There's no real "recipe" really, you just dump some almonds in a food processor, and process away…simple as that!
Well, almost… If you really like the nutty almond taste, I highly recommend roasting the almonds at 350 degrees for about 8-10 minutes first. Roasting helps to release their oils and really brings out their nutty flavor. And your kitchen will smell amazing!
Since I only did a 1-cup batch, I just put them in my toaster-oven to save electricity, and because I didn't want to heat up the kitchen on a warm June afternoon. If you're using the toaster-oven, it will take less time – mine were done at about 7-8 minutes. You'll know when they're done when they're a little darker and the smell fills your kitchen.
Let them cool to the touch, then throw them into your food processor. Turn it on and let it go for a while. First, it'll chop up the almonds…
Then, it'll turn to a fine powder. You'll have to keep stopping to scrape down the sides, then start again.
Then, the almonds will finally start to clump up. Keep scraping, then processing, scraping, then processing…
Soon enough, it'll start to roll onto itself. Keep going!
Then, finally! You'll see the oils burst and your rolled up ball will be shiny and smooth! But, keep going. You're almost there!
Alright! Now, that's what we're talking about! Look at that consistency! Nice, smooth, creamy…
Now you can taste the butter. If you like it, that's it – you're done! Or you can go on and add in some extras for flavor. I added a dash of salt, a dollop of raw honey, and a drizzle of olive oil, and it was PERFECT! Totally smooth, totally spreadable, and just perfect for our taste.
Look at that yumminess…
Just store it in a glass container, and keep it in the fridge, where it should last for….ahhh, who am I kidding? We're lucky if this stuff lasts us to the weekend! But seriously, it should last for up to 2 weeks in the fridge.
The awesome thing about all of this is that it's the same process to make any kind of nut butter! Peanut butter, cashew butter, walnut butter… Even seed butters, like sunflower seed butter and pumpkin seed butter. I think the same procees is also used to turn sesame seeds into tahini! This is seriously the coolest thing I've learned in a long time!
And while I'm on this new almond kick, I'm making almond milk today! So keep a look out for that post in a couple days.
Have you made any nut butters before? Did this process look easy enough for you to try it? Actually, I don't even know why you're still reading this… Go make some – now! 🙂
This post was proudly featured on: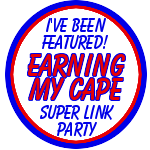 [tssig id="3″]
[tssig]